Top Combilift Dealer in North America
Industrial Parts and Service has repeatedly been awarded the "Dealer of Excellence" award from Combilift and has been selling and servicing Combilift products since 1998. Our sales team is ready to help you decide which Combilift model is right for you and our service team will ensure that your Combilift is kept in great condition, always ready for the next load.

Combilift Ltd offers the complete solution to the world's material handling industry. The revolutionary Combilift multi directional forklift is capable of handling loads of all sizes with maxiumum efficiency and safety. The combilift removes the need for both a counterbalance and a sideloader by combining both machines in one simple and easy to use vehicle.
---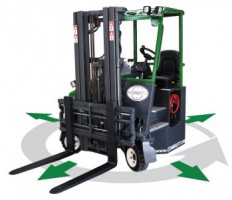 Multi-Directional Capabilities
Available in LP Gas, Diesel, and Electric
6,000 – 9,000 lbs Capacities
Lift Heights up to 25 feet
Suitable for Both indoor & Outdoor Use
Extensive Range of Attachments
More Info »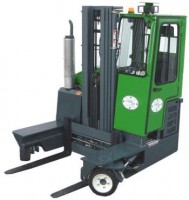 Combilifts' Flagship Product
Multi-Directional Capabilities
Available in LP Gas, Diesel & Electric
5,000lbs – 50,000lbs Capacities
Lift Heights up to 31 feet
Suitable for Both Indoor & Outdoor Use
Extensive Range of Attachments
More Info »
---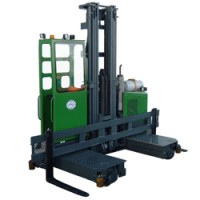 Designed for Narrow Aisle Applications
Available in LP Gas, Diesel & Electric
6,000lbs – 11,000lbs Capacities
Lift Heights up to 31 feet
Suitable for Both indoor & Outdoor Use
Extensive Range of Attachments
More Info »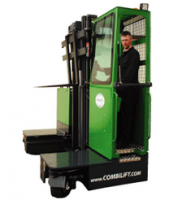 Available in LP Gas, Diesel & Electric
5,000lbs – 6,000lbs Capacities
Lift Heights up to 31 feet
Suitable for Both indoor & Outdoor Use
Extensive Range of Attachment
More Info »
---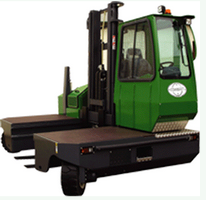 Multi-Directional Capabilities
Available in LP Gas & Diesel
9,000 lbs – 12,000 lbs Capacities
Lift Heights up to 21 feet
Suitable for Both indoor & Outdoor Use
Extensive Range of Attachments
More Info »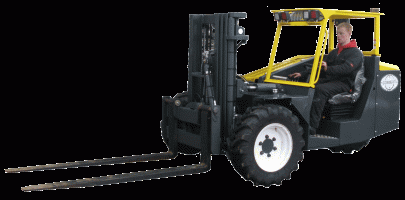 3 Wheel Maneuvrability
All Wheel Hydrostatic Drive
30° Fork Rotation
3 Stage Mast With Full Free Lift
Large Tractor Grip Tyres
Diff-Lock Feature
Deep Suspension Seat
Back Up Alarm
150mm Mast Side Shift
Pivot Forks
More Info »